Product Summary
How it works
Technical Specifications
Gallery
| | |
| --- | --- |
| Reliable and Valid Sample Collection | NADP approved for NTN Site |
| Closed cover sealing sample collection container | Open cover resting above splash shield |
Compact to minimize splash area

Prompt opening and closing of sample container

Does not "hunt" under marginal precipitation conditions

Reliable, heavy duty cover drive motor

Easy mounting

Operates on 110VAC/220VAC or 12VDC

Simple maintenance 

Plug & Play replacement parts

Responsive to light snow, drizzle or heavy fog
The infrared, optical precipitation sensor detects the onset of precipitation and uncovers the sample container within five (5) drops.  Within two minutes, after precipitation stops, cover returns to sample container to minimize exposure to dry deposition.  Sensor also detects drizzle, heavy fog or light snow, which may carry significant amounts of deposition.
Collection of uncontaminated wet deposition samples is essential to precipitation chemistry validity.  Compact design minimizes splash from exterior surfaces.  In areas with high wind, the sampler may be fitted with an optional Alter Screen.  The compression seal on the underside of the cover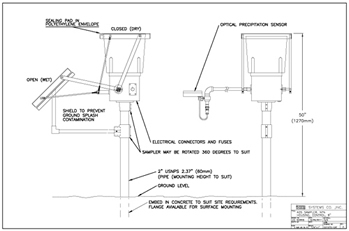 prevents leakage of dry deposition in to the container and retards sample evaporation.  When the cover System is opened the underside is protected from ground splash by a shield that covers, but does not contact the seal.
Reliability is essential to the collection of valid samples. The ADS/NTN runs interchangeably on either line power (110VAC or 220VAC) or (12VDC) with an optional external power converter. Cover drive is rated for 20 years of typical service.  All parts are easy to replace without special tools.
The ADS/NTN is mounted on a 2" NPS pipe by a socket secured with 2 set screws, so that it may be easily rotated.
The sampler also provides a 4 conductor cable to connect to an unpowered auxiliary contact that closes during precipitation events.  This contact can operate a user furnished data logger and/or event recorder pen in a Belfort Universal Raingage.  System will also interface with a variety of electronic, weighing rain gages.
A normally open contact is also provided for monitoring power continuity.
SAMPLE CONTAINER:

NADP Type
Capacity: 3.5 US Gallons
Material: Rigid Polyethylene, with carrying handle
Cover: Snap-on lid with "O" ring seal
Furnished: 1 each

PRECIPITATION SENSOR:

Type: Infra-red transmitter and receiver
Opening: Within 5 drops of onset of precipitation
Closing: Within 2 minutes of end of precipitation

OUTPUT FOR DATA LOGGER OR EVENT RECORDER:

Two unpowered, normally open contacts
1 Contact is closed for the duration of sampling event
1 contact is closed to indicate power to system is on

DIMENSIONS:
16" (41cm) Wide 
15" (38cm) Deep  (less sensor)
24" (61cm) High

WEIGHT:

Net:  36 Pounds (16 Kg)
Shipping: 55 Pounds  (25Kg.)

MOUNTING:

Direct mounting on 2" NPS pipe
(2.375 Dia. 68mm Dia.)
With mounting collar and set screws

MATERIALS OF CONSTRUCTION:

Control Housing:
Aluminum (5052H32) .125"
White polyester powder coat

Sample Container Cover:
Aluminum (5052H32) .090"
White polyester powder coat