Product Summary
How It Works
Technical Specifications
Engineering Specifications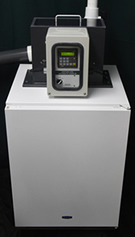 Flexible Installation

Minimal Maintenace

Easy Sample Setup

Superior Solids Handling

A simple field replacement for all previous Sentinel models
2" NPT inlet, 3" NPT exhaust, and open dipper minimize clogging
Constant volume dipper with turbulent mixing of waste in the sampling chamber assures representative samples
Sampler and dipper are constructed of naturally corrosion-proof PVC
Time or flow based (pulse or 4-20 mA) modes standard
Available with or without factory refrigeration

1. Sewage or process wastewater flows into the integral sampling chamber through a 2" NPT inlet line at the rate of 15 to 35 gallons per minute, by either gravity or pumping

2. Representative samples are assured by thorough mixing of the liquid before it flows over an adjustable weir and wastes through a 3" NPT exhaust line.

10. An indicator light comes on during the collection of e

3. A sampling dipper attached to an oscillating shaft is located in the sampling chamber.

9. The operator may switch select either time cycle (pre-set number of samples per hour) or proportional (flow based number of samples per hour) sampling.

4. Responding to flowmeter signals or actuated by its own timer, the dipper collects a repeatable 25 ml sample from the flow in the sampling chamber. (1-6 dips/cycle for a maximum of 150 ml/cycle

8. Flow proportioned composites are collected by connecting the electrical output of an integrator or 4-20 MADC

5. The dipper then returns to its raised position and deposits the sample in the composite container in the sample storage compartment through the transfer funnel.

7. The composite sample container supplied is made of high density polyethylene and has a 4" diameter opening to facilitate proper cleaning.

6. The sample dipper motor is hermetically sealed and operates with lifetime lubrication and corrosion resistance.
SAMPLER HOUSING

Material Rigid, unplasticized gray PVC
Sampling Dipper Constant volume 25 ml - PVC
Recommended Flow Rate 10-30 gal/min (gravity flow or pump installation)
Inlet / Exhaust 2" NPT inlet, 3" NPT exhaust SCH-80 PVC with flexible pipe couplings
Head Adjustment Adjustable PVC overflow weirs
Chamber Cover Clear polycarbonate with handle

SAMPLER CONTROL

Enclosure NEMA 4X enclosure with clear hinged cover
Control PLC with LCD display and keypad
Dipper motor Spring return, oil-sealed motor with stainless shaft
Connections 1/2" hub for standard electrical conduit
Access port 2 available for optional connections or flow-meter


STANDARD PROGRAMMING OPTIONS

Time based 60 sampler per hour (maximum)
Plulse flow meter 1-9,999 pulses per sample
4-20 mA DC Adjusted based on calculation
Sample volume 25-150 ml/sample cycle in 25 ml increments

ELECTRICAL REQUIREMENTS

Input 115 VAC, 60 Hz
Connections to Sampler All power and flowmeter connections made to numbered terminal block
Circuit Protection 10 amp system fuse and .5 amp flowmeter fuse


REFRIGERATION OPTIONS


User-supplied Use any standard refrigerator that can accommodate a 2-1/2" hole in top
(self-installation kit available PN 01-095)
Factory Standard AGA/Marvel Scientific (White Powder Coat) with digital control, key lock and door alarm
Factory Stainless AGA/Marvel (Stainless Steel) with digital control, key lock and door alarm
Engineering Specifications
The sampler shall be fabricated of unplasticized PVC or equally impact and corrosion resistant non-fiberglass, plastic material. Samplers using other materials of construction shall not be acceptable.
Each (the) sampler programmer(s) shall be mounted on a removable panel on the front of the sampler. The control panel shall contain the following items:
1. Programmable Logic Control (PLC) with key pad and display
2. Power OFF-ON switch
5. Main Fuse (10 ampere)
6. Flowmeter fuse (.5 amp)
Programmable for timed (Fixed Rate) or flow proportioned sampling. The programmer may be set to accept unpowered flowmeter contacts or 4-20MADC analog signals. Samplers not providing all three of these functions shall not be acceptable.
In any mode the sampler shall be capable of collecting up to 180 samples per hour. All internal wiring shall be complete, and it shall only be necessary to provide 120 VAC, single phase power and suitable flowmeter connections. (Flowmeter by others).
The sample chamber shall be designed for a flow rate of 10-30 gallons per minute provided by either pumping or gravity flow. A 2" NPS inlet and a 3" NPS exhaust shall be provided. Flexible couplings shall be provided by the manufacturer. The bottom of the sample chamber shall be substantially flush with the invert of the exhaust line to facilitate cleaning. The design of the sampler shall be such that sampled materials does not contact either fiberglass or fiberglass reinforced plastic to prevent the possibility of leaching organics into the sample stream. The sample dipper shall collect a 25 ml sample and shall be fabricated of cast aluminum with a baked on TEFLON™ coating. The sample dipper shall be operated by permanently lubricated, gear reduced motor isolated from the sample chamber.
An adjustable weir shall be provided to regulate the liquid level in the sample chamber. The collected sample shall be delivered to the sample container through a vertical collector tube to facilitate operator observation and cleaning and to prevent solids build up on non-vertical surfaces.
Each (the) sampler shall be complete with thermostatically controlled refrigeration capable of maintaining the sample storage compartment at 5°C with 1°C differential.
Two (2) 2-1/2 gallon sample containers shall be furnished with each sampler. The sample container neck shall be not less than 4" in diameter to facilitate cleaning.